---
Trinidad Head, California, United States [THD]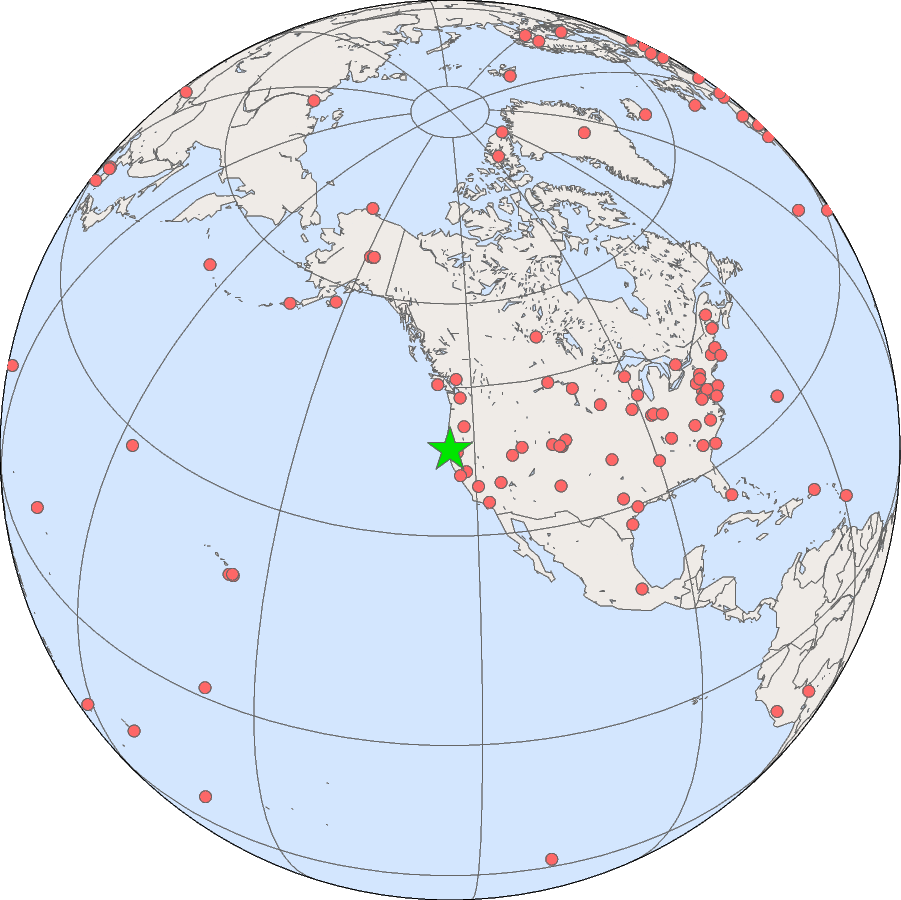 Location
Country: United States
Latitude: 41.0541° North
Longitude: 124.151° West
Elevation: 107.00 masl
Time Zone: Local Standard Time + 8.0 hour(s) = UTC
Data
Cooperating Agencies
Trinidad Head Observatory (THD) is located on a point jutting into the ocean along the remote northern coast of California approximately 40 km (25 miles) north of Eureka, California, the main regional population center. The coastal climate is dominated by maritime influences, with moderate year-round temperatures and moderate-to-high humidity. To the immediate west of Trinidad Head is the unobstructed Pacific Ocean. To the east, the coastal range is dominated by redwood forests. The town of Trinidad represents the primary community in the immediate vicinity and supports approximately 400 year-round residents. The Telonicher Marine Laboratory (TML), a satellite facility of Humboldt State University (HSU), is also located in Trinidad.
NOAA established an atmospheric baseline observatory at Trinidad Head in 2002. Because of its relatively remote coastal location and prevailing maritime airflow, NOAA felt the site would provide scientists with an opportunity to observe and monitor both regional and global atmospheric conditions reasonably free from local influences.
An instrument trailer was installed in April 2002 allowing measurements of aerosols, surface ozone, radiation, and flask sampling for halocarbons and carbon cycle gases. Bi-weekly airborne vertical profile measurements provide a continuous baseline of pollution and climate forcing agents in air entering the U.S. Co-located with the Trinidad Head Observatory, the Scripps Institution of Oceanography operates two in situ instruments, one as part of the Advanced Global Atmospheric Gases Experiment (AGAGE), the other for measuring changes in atmospheric oxygen concentrations.
The NOAA Trinidad Head Atmospheric Baseline Observatory was downgraded from its status as a full "Observatory" to a "Sampling Site" on June 5, 2017. Most long-term projects and infrastructure were removed from the site. Three research projects remain at THD in partnership with other entities: surface ozone monitoring instrumentation (partnership with SIO), ozonesonde launching capabilities (partnership with HSU), and halocarbons flask sampling capabilities (partnership with AGAGE). The downgrade follows a Global Monitoring Laboratory-wide evaluation of scientific goals and global observing network capabilities that resulted in realignment to best meet NOAA's mission and the nation's scientific needs.
All Trinidad Head data are available on the Global Monitoring Division's website: https://esrl.noaa.gov/gmd/dv/data/index.php?site=thd
Meteorology

Trace gases from GGGRN Airborne Flasks