Women's History Month: A conversation with NOAA Corps Officer LTJG Marisa about her 13 months "on the ice"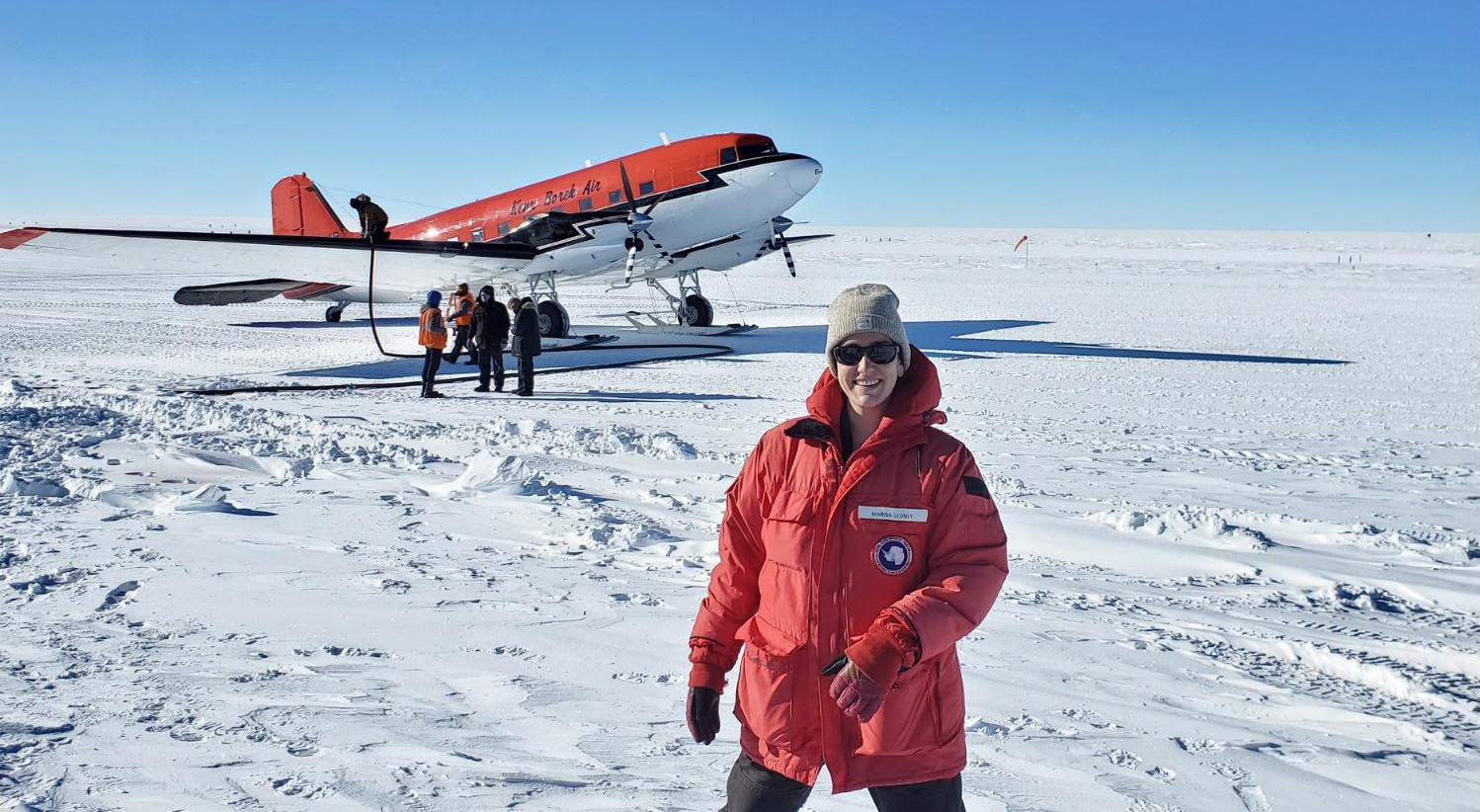 Mar 31, 2021
In honor of Women's History Month, Global Monitoring Laboratory (GML) is highlighting some of the great work done by our scientists. Today's story expands on a previous one introducing a day in the life at the South Pole for NOAA Corps Officer Lieutenant Junior Grade Marisa Gedney, who served as a Station Officer at the Amundsen-Scott South Pole Station in Antarctica.
Every year GML hires two station officers to staff the Atmospheric Research Observatory (ARO) operating at the Amundsen-Scott South Pole Station. It is an 18-month appointment including 3 months of training by GML and the U.S. Antarctic Program in Colorado and 13 months of deployment in Antarctica.
ARO is one of four baseline observatories around the world that focus on monitoring long-term and global-scale changes in background atmospheric constituents, with minimal impact from direct human influences. This includes focus areas such as the global carbon cycle and greenhouse gases, aerosols, solar radiation, ozone, halocarbons, and other trace species.
Marisa served her term in Antarctica from November 2019 to December 2020 and has now returned to Boulder, Colorado. As a NOAA Corps Officer, Marisa has diverse experience both serving on a marine research expedition and working at GML's American Samoa Observatory. Soon, she will be moving to Maryland to work for the National Environmental Satellite, Data, and Information Service (NESDIS).
Our conversation follows.
How was your Antarctica experience? How did it change you?
I knew of this opportunity a few years back and always wanted to go. Now, I would say that I definitely love it. If there is a chance, I would do it again.
The impact of this experience is both physical and mental. I had experience with remote, lock-in environments before when I was in American Samoa, but Antarctica brings it to the next level. You only have one sunrise and one sunset the whole year and it feels like winter all year long. Sometimes it could get as low as -100 ℉ outside.
As a station officer, I was responsible for operating instrumentation and collecting air samples at the NOAA Atmospheric Research Observatory. This involves daily checks of the instruments inside the observatory, weekly checks of instruments on the rooftop, and weekly launches of balloon-borne ozonesondes in the winter months. These balloons measure ozone profiles through the atmosphere.
The observatory is about a third of a mile from the main building of the South Pole Station where everybody lives. So I had to gear up every day to walk from the main building to the observatory. The gear itself is already 18 pounds! Because it looks the same in all directions and everywhere points North in Antarctica, there are flag lines around to help navigate and everyone leaving the building has to bring a radar. These are critical because in white-outs you can't even see things five feet from you!
I always practiced precaution when I went out. I would count my steps between flags and also return back if I could not see the next flag. Also if the wind speed was over 20 knots, I would skip the rooftop check. It would have been quite embarrassing to call for emergency help since I was one of the firefighting team leads.
Before leaving for the South Pole, I was totally nervous. As an island girl, I worried about how I could adapt, but surprisingly I do love the cold! I was lucky enough to avoid frostbites but I did get some frostnip (a term we used to describe the condition before frostbites). Most of them were because of me trying to take photos. I also got to test out the limit of my phone's battery in extreme cold. It could only handle five photos without turning itself off.
I also got a lot of time for self-reflection and establishing inner mental stability. The winter was the most challenging since I wasn't able to see sunlight for five months. I definitely had some challenging days, but the remoteness gave me an opportunity to learn to carry on and figure myself out. Also, because of the long night, I was able to see the most amazing Milky Way ever.
How did COVID-19 impact your life at the station?
Luckily, the South Pole station wasn't impacted a lot by the COVID situation during winter 2020 (February to September). Typically, the last flight would leave Antarctica before the sun sets in March and no flight would be scheduled until the sun rises again in September. Thus, the station was not directly affected at the start of the pandemic. However, we only have a clinic and do not have the capacity to handle an outbreak, so precautions were taken.
We have a level code to indicate the level of COVID risk and corresponding measures. Green indicates no potential cases of COVID with everyone at the station has passed quarantine. No one needs to wear a mask at code green. Yellow indicates that new personnel have arrived at the station with no symptoms, but still needs to quarantine. In this case, everyone needs to practice social distance and wear a mask in the public area. Red would indicate an outbreak. To date, no U.S. Antarctic research station has detected any cases of COVID-19.
We went through a practice drill when the station reopened for summer. That was the first time I had to wear a mask. The summer personnel was greatly reduced due to COVID. Typically, we would have a summer population of 150, but less than 60 personnel were on the station this summer.
It was quite bizarre to see the pandemic from afar and I felt like the world was experiencing what I experienced in the isolated winter of Antarctica. The big difference is that I signed up for my Antarctica experience, while the rest of the world did not sign up for quarantine. I did talk to my family and friends during my time in Antarctica, but I would not have been able to do anything if an emergency had happened. It almost felt like I was forced to sit and watch what was going on.
When my term ended in the early summer of 2020, it took me extra time to get back from Antarctica to the United States. I spent 7 days in McMurdo station, 14 days in New Zealand, and another 14 days quarantining in Los Angeles. There were 42 crews total serving the same 13-month term as I did. When we came back to the US, the only way we could say goodbye was by waving with our masks on. No hugs were allowed in the airports. Suddenly, I was by myself.
It is nice to finally be able to see my family again. It's been a few months since I came back from Antarctica and I feel ready to start my next journey this summer in Maryland!