Organization(s):

National Oceanic and Atmospheric Administration (NOAA), Earth System Research Laboratory (ESRL)
What does this program measure?
Sulfur Dioxide is measured at 4,10,23,and 40 meters above the ground, in units of parts per trillion by volume.
How does this program work?
A Pulsed fluorescence method using a Thermo-Environmental Inc. model 43S (shown below) is used continuously at Mauna Loa Observatory.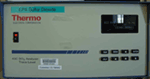 Why is this research important?
This is part of an effort to monitor long-term of emissions from Kilauea and Mauna Loa volcanoes. It may provide a precursor to the next Mauna Loa eruption. These measurements also detection large sulfur dioxide pollution events from Asia.
Are there any trends in the data?
No trends. Kilauea has been in continuous eruption since 1983. Mauna Loa last erupted in 1984. Since 1994; SO2 levels from Mauna Loa have been low (<500ppt, or parts per trillion).
How does this program fit into the big picture?
What is it's role in global climate change?
The SO2 data can be used to detect periods of volcanic pollution at the observatory. This can provide a non-baseline filter for other measurements.
Comments and References
None.