Measurements at NOAA's Mauna Loa Observatory stopped following the recent eruption of the Mauna Loa volcano, when lava flow blocked staff access and took out power lines to the facility.
Under an emergency agreement, NOAA and the University of Hawaii have established a temporary measurement site at the nearby Mauna Kea volcano for the critical CO2 record and other atmospheric measurements taken at the observatory.
Media can contact: Theo Stein (303) 819-7409 (theo.stein@noaa.gov) or Karin Vergoth 303-632-6413‬ (karin.vergoth@noaa.gov)
Organization(s):

National Oceanic and Atmospheric Administration (NOAA),
Earth System Research Laboratory (ESRL)
What does this program measure?
High-resolution (~ 5 minute) ozone (O3) is sampled.
How does this program work?
A Thermoelectron Model 49C ozone instrument (shown below) is run continuously from Mauna Loa Observatory. (Click photo to enlarge.)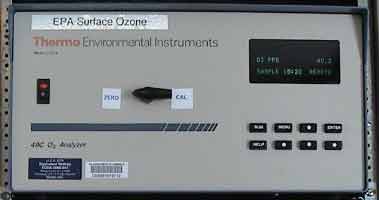 Why is this research important?
Are there any trends in the data?
How does this program fit into the big picture?
What is it's role in global climate change?
Comments and References