Measuring & Analyzing Greenhouse Gases: Behind the Scenes
Boulder Atmospheric Observatory Tall Tower
One tall tower that was built specifically for atmospheric research is the Boulder Atmospheric Observatory (BAO) Tall Tower. Although there are unique towers throughout the United States, most of them are set up similar to the BAO Tall Tower. To learn more about the BAO tower and how it was decided to be used for a CO2 monitoring site, read
On the Use of the Boulder Atmospheric Observatory as a CO2 Tall Tower Site
Specifications
The BAO Tower stands 300 meters tall (almost 1,000 feet) and is instrumented with air sampling inlets at three heights up the tower (22m, 100m, and 300m). An elevator is equipped on the BAO Tower, which is not seen on many of the other towers within the Air Sampling Network.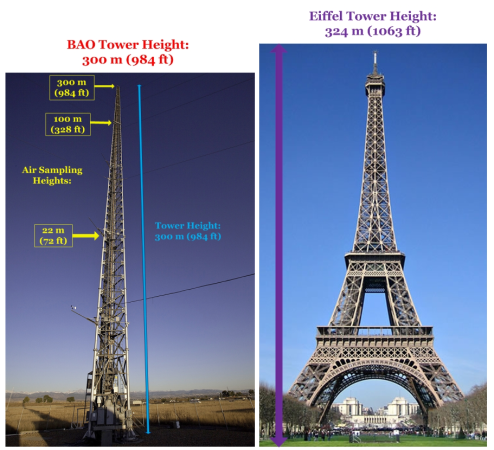 Location
The Google map above shows where the BAO tower is located in Colorado. Check out the surrounding area to see the famous Rocky Mountains to the west and the large urban expanse of Denver to the south. Due to the tower's surroundings and varying wind directions, we can see noticeable differences in the air that that is being sampled. Check out the graph below showing differences in CO2 concentrations recorded at the BAO tower when winds were blowing from different directions.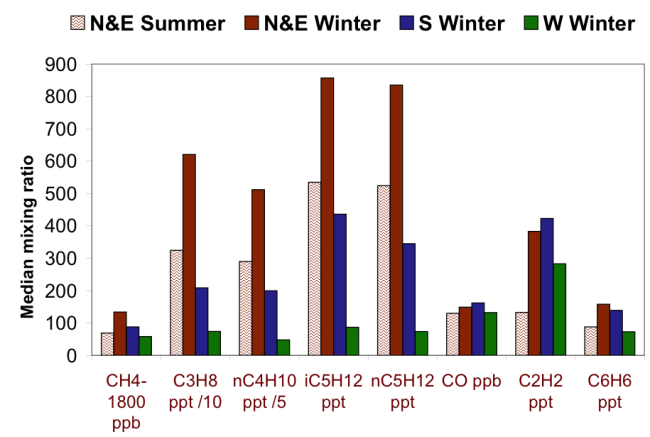 Equipment
Unlike most of the towers used for greenhouse gas measurements, the BAO tower was built specifically for atmospheric studies, and is used to measure everything from temperature to wind speed to the amount of ozone in the local atmosphere. The CCGG group has their own equipment to measure Carbon Dioxide (CO2) and Carbon Monoxide (CO) continuously at the base of the tower housed in the measurement trailer. Discrete flask samples are also taken every other day from 300 m (984 ft) above the ground. The picture below shows the location of the measurement trailer from the top of the tower.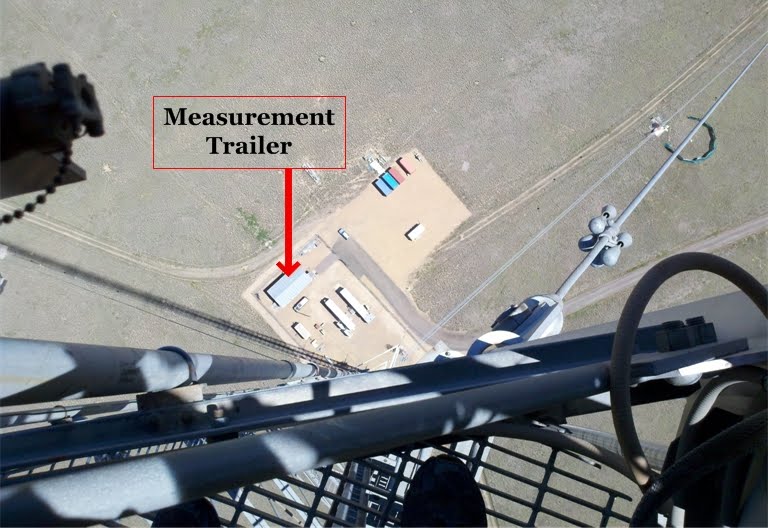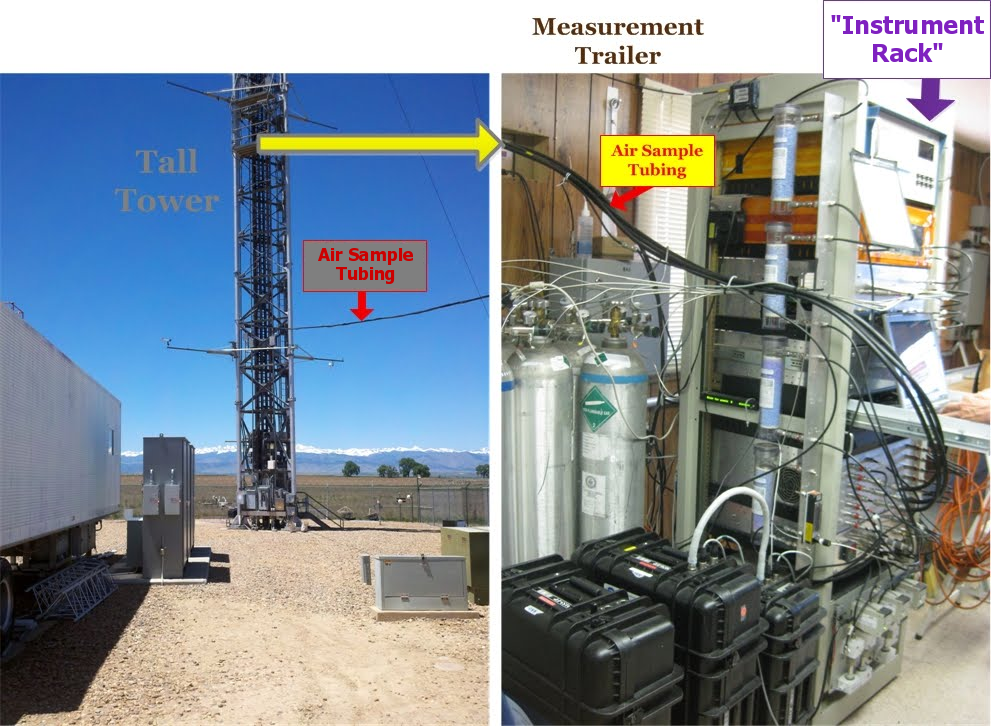 Flask Sampling
Not only are continuous measurements taken at the BAO tall tower, but discrete flask samples are also taken every 2 days from the 300 meter level on the tall tower. There is a separate run of tubing up to the 300 meter level of the tall tower specifically for the flask sampling procedure. A Programmable Compressor Package (PCP) and a Programmable Flask Package (PFP), which are usually used for aircraft sampling, are located in the measurement trailer to take flask samples that will later be measured back at the CCGG Boulder Central Facility. The PCP contains the pumps that pushes the ambient air from the tower into the sample flasks located in the PFP. The data logger triggers when flask samples should taken, but otherwise the flask samples are separate from the instrument rack. To learn how the PCP and PFP collects air samples, check out Equipment and Technique under the aircraft section of the air sampling network.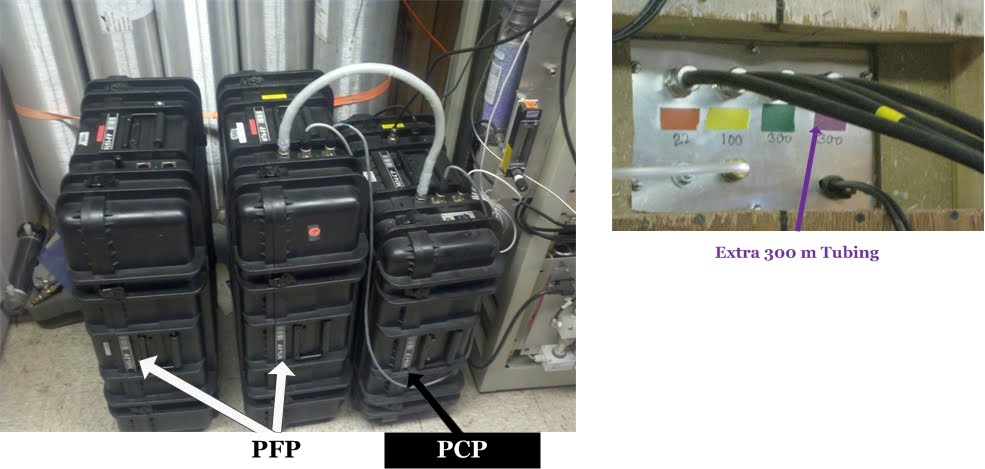 Instrument Rack
In-situ CO2 and CO concentrations are measured, recorded, and sent back to the CCGG group for storage and analysis all through this instrument rack made up of the following components:
Reference to any specific commercial products, process, or service by trade name, trademark, manufacturer, or otherwise, does not constitute or imply its endorsement, recommendation, or favoring by the United States Government.