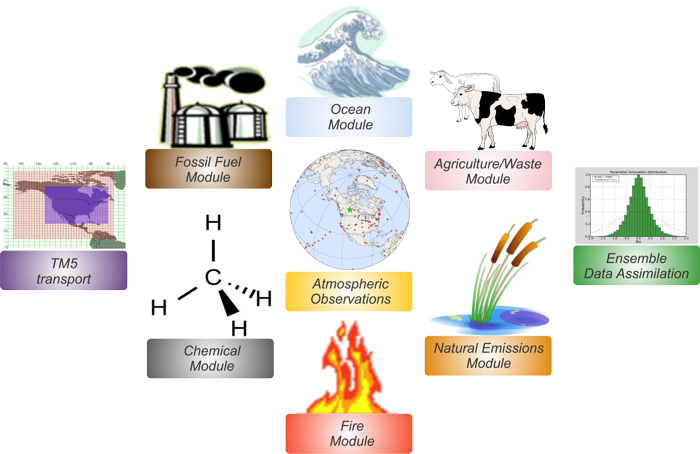 To learn more about a CarbonTracker component, click on one of the above images.
Or download the full PDF version for convenience.
---
Observations
Introduction
The observations of CH4 mole fraction by NOAA ESRL and partner laboratories are at the heart of CarbonTracker-CH4. They inform us about the atmospheric methane buget, whether they are regular (such as the seasonal wetland emissions), or irregular (such as the release of tons of carbon by a wildfire). The results in CarbonTracker depend directly on the quality, frequency, density and location of observations available. The degree of detail at which we can monitor the atmospheric methane budget increases strongly with the density, or the number of samples collected, within our observing network.
Detailed Description
This study uses measurements of air samples collected at surface sites in the NOAA ESRL Cooperative Global Air Sampling Network. All air samples are used with the exception of data identified as having analysis or sampling problems, or those thought to be influenced by local sources. The sites for which data are available thus varies each week depending on successful sampling and analysis, and each site's sampling frequency. In addition, we use in situ quasi-continuous (real time and almost continuous) CH4 time series from the following towers operated by Environment Canada (EC):
the 30 m level of the tower at Candle Lake (CDL, formerly Old Black Spruce), Saskatchewan, Canada.
the 105m level of the tower in East Trout Lake, Saskatchewan, Canada (ETL).
the 40 m level of the tower in Fraserdale, Ontario, Canada (FRD).
the 10 m level of the tower in Lac Labiche, Alberta, Canada (LLB).
Other in situ quasi-continuous CH4 time series used are from the EC Canadian sites at Alert, Nunavut (ALT), Sable Island, Nova Scotia (SBL) and Egbert, Ontario (EGB).
Note that all of these observations are calibrated against the WMO GAW CH4 mole fraction scale (NOAA 2004). Also, note that aircraft observations from the NOAA ESRL program were NOT assimilated, but used for independent assessment of the CarbonTracker-CH4 results.
For most quasi-continuous sampling sites, we construct an afternoon daytime average mole fraction for each day from the time series. Recognizing that our atmospheric transport model does not always capture the continental nighttime stability regime while daytime well-mixed conditions are better matched. Moreover, observations at sub-daily time scales are likely to be strongly correlated and therefore add relatively little independent information to our results.
Also based on Transcom continuous simulations, we decided to move a set of coastal sites by one degree into the ocean to force the model sample to be more representative of the actual site conditions. These sites are labeled for reference in the complete table of sites used in CarbonTracker. Table 1 summarizes how data from the different measurement programs are preprocessed for this study.
The preprocessed data used in CarbonTracker-CH4 are available on request. Preprocessed data are not the original measurement data. Users are encouraged to review the literature and contact the measurement labs directly for details about and access to actual observations.
Table 1: Summary of CarbonTracker data preprocessing.

| Measurement Program | Data Preprocessing |
| --- | --- |
| ESRL discrete surface | All valid1 data. Multiple values from the same day and location are averaged. No sample time-of-day restriction (see exception below). |
| EC in situ sites | All valid data from highest intake. Day average using 12-16 LST. |
1In this context "Valid Data" means the observation is thought to be free of sampling and analytical problems and has not been locally influenced.
We apply a further selection criterion during assimilation to exclude non-marine boundary layer (MBL) observations that are very poorly forecasted in our framework. We use the so-called model-data mismatch in this process, which is the random error ascribed to each observation to account for measurement errors as well as modeling errors of that observation. We interpret an observed-minus-forecasted (OmF) mole fraction that exceeds 3 times the prescribed model-data mismatch as an indicator that our modeling framework fails. This can happen for instance when an air sample is representative of local exchange not captured well by our 1° x 1° fluxes, when local meteorological conditions are not captured by our offline transport fields, or when strong, localized emissions that cannot be resolved by our flux modules are suspect.
Table 2 (below) gives a summary of the observing sites used in CarbonTracker, and the performace of the assimilation scheme at each site. These diagnostics are useful for evaluating how well CarbonTracker does in simulating observed CH4.
Table 2. Summary of Observational Sites Used in CarbonTracker.

| Site Code | Laboratory | Latitude | Longitude | Elevation (masl) | # Obs. | # Rejected | Model-Data Mismatch (ppb) | Mean Bias (ppb) | σ (ppb) | χ2 |
| --- | --- | --- | --- | --- | --- | --- | --- | --- | --- | --- |
| abp_01d0 | ESRL | 12.77S | 38.17W | 1.0masl | 112 | 3 | 7.5 | -8.4 | 7.7 | 2.0 |
| alt_01d0 | ESRL | 82.45N | 62.51W | 200.0masl | 532 | 0 | 15.0 | -2.2 | 8.7 | 0.3 |
| alt_06c0 | EC | 82.45N | 62.51W | 200.0masl | 3181 | 10 | 15.0 | -1.2 | 10.2 | 0.4 |
| amt_01d0 | ESRL | 45.03N | 68.68W | 50.0masl | 267 | 4 | 30.0 | -6.1 | 22.8 | 0.4 |
| amt_01p0 | ESRL | 45.03N | 68.68W | 50.0masl | 174 | 0 | 30.0 | 0.8 | 16.5 | 0.3 |
| asc_01d0 | ESRL | 7.97S | 14.4W | 74.5masl | 961 | 79 | 7.5 | -10.0 | 9.3 | 3.0 |
| ask_01d0 | ESRL | 23.18N | 5.42E | 2728.0masl | 491 | 0 | 25.0 | -6.9 | 9.1 | 0.2 |
| azr_01d0 | ESRL | 38.77N | 27.38W | 40.0masl | 350 | 16 | 15.0 | -12.0 | 15.9 | 1.7 |
| bal_01d0 | ESRL | 55.35N | 17.22E | 3.0masl | 974 | 0 | 75.0 | 1.4 | 29.4 | 0.1 |
| bhd_01d0 | ESRL | 41.41S | 174.87E | 85.0masl | 165 | 0 | 7.5 | -4.1 | 5.4 | 0.7 |
| bkt_01d0 | ESRL | 0.2S | 100.32E | 864.5masl | 345 | 0 | 75.0 | 6.8 | 30.8 | 0.2 |
| bme_01d0 | ESRL | 32.37N | 64.65W | 30.0masl | 256 | 14 | 15.0 | -13.6 | 17.4 | 2.1 |
| bmw_01d0 | ESRL | 32.27N | 64.88W | 30.0masl | 352 | 7 | 15.0 | -13.2 | 12.8 | 1.4 |
| brw_01d0 | ESRL | 71.32N | 156.61W | 11.0masl | 514 | 13 | 15.0 | -5.8 | 16.1 | 1.1 |
| bsc_01d0 | ESRL | 44.17N | 28.68E | 3.0masl | 501 | 1 | 75.0 | -14.4 | 56.2 | 0.5 |
| cba_01d0 | ESRL | 55.21N | 162.72W | 21.34masl | 892 | 23 | 15.0 | -10.6 | 13.4 | 1.1 |
| cdl_06c0 | EC | 53.99N | 105.12W | 600.0masl | 1390 | 77 | 25.0 | -24.7 | 30.3 | 2.1 |
| cgo_01d0 | ESRL | 40.68S | 144.69E | 94.0masl | 416 | 0 | 7.5 | -4.1 | 4.6 | 0.6 |
| chr_01d0 | ESRL | 1.7N | 157.17W | 3.0masl | 426 | 79 | 7.5 | -14.6 | 9.9 | 5.2 |
| crz_01d0 | ESRL | 46.45S | 51.85E | 120.0masl | 453 | 0 | 7.5 | -2.9 | 4.3 | 0.5 |
| egb_06c0 | EC | 44.23N | 79.78W | 251.0masl | 1810 | 0 | 75.0 | -6.9 | 28.7 | 0.1 |
| eic_01d0 | ESRL | 27.15S | 109.45W | 50.0masl | 323 | 3 | 7.5 | -7.3 | 5.3 | 1.4 |
| esp_06c0 | EC | 49.58N | 126.37W | 7.0masl | 403 | 0 | 25.0 | -6.8 | 12.3 | 0.3 |
| etl_06c0 | EC | 54.35N | 104.98W | 492.0masl | 1780 | 135 | 25.0 | -30.1 | 31.9 | 2.8 |
| fsd_06c0 | EC | 49.88N | 81.57W | 210.0masl | 3409 | 10 | 25.0 | -9.4 | 18.3 | 0.6 |
| gmi_01d0 | ESRL | 13.43N | 144.78E | 3.0masl | 802 | 11 | 15.0 | -10.2 | 13.0 | 1.2 |
| hba_01d0 | ESRL | 75.58S | 26.5W | 30.0masl | 506 | 0 | 7.5 | 0.5 | 4.6 | 0.3 |
| hpb_01d0 | ESRL | 47.8N | 11.01E | 985.0masl | 241 | 17 | 25.0 | -13.8 | 35.7 | 1.4 |
| hun_01d0 | ESRL | 46.95N | 16.65E | 248.0masl | 530 | 3 | 75.0 | -14.0 | 43.7 | 0.3 |
| ice_01d0 | ESRL | 63.4N | 20.29W | 118.0masl | 529 | 7 | 15.0 | -3.3 | 13.1 | 0.6 |
| izo_01d0 | ESRL | 28.31N | 16.5W | 2360.0masl | 443 | 2 | 15.0 | -8.5 | 11.4 | 0.9 |
| key_01d0 | ESRL | 25.67N | 80.16W | 3.0masl | 388 | 3 | 25.0 | -7.0 | 20.1 | 0.6 |
| kum_01d0 | ESRL | 19.52N | 154.82W | 3.0masl | 720 | 42 | 7.5 | -6.8 | 10.6 | 2.2 |
| kzd_01d0 | ESRL | 44.06N | 76.82E | 601.0masl | 454 | 4 | 75.0 | 5.2 | 44.0 | 0.2 |
| kzm_01d0 | ESRL | 43.25N | 77.88E | 2519.0masl | 447 | 2 | 25.0 | -2.8 | 20.2 | 0.6 |
| lef_01d0 | ESRL | 45.95N | 90.27W | 472.0masl | 505 | 6 | 30.0 | -9.7 | 28.6 | 0.8 |
| lef_01p0 | ESRL | 45.95N | 90.27W | 472.0masl | 341 | 7 | 30.0 | -2.1 | 30.9 | 0.9 |
| llb_06c0 | EC | 54.95N | 112.45W | 540.0masl | 1152 | 84 | 75.0 | -79.9 | 122.4 | 3.7 |
| lln_01d0 | ESRL | 23.47N | 120.87E | 2862.0masl | 222 | 1 | 25.0 | -4.1 | 24.4 | 0.9 |
| lmp_01d0 | ESRL | 35.52N | 12.62E | 45.0masl | 206 | 1 | 25.0 | -0.7 | 20.5 | 0.5 |
| mhd_01d0 | ESRL | 53.33N | 9.9W | 5.0masl | 416 | 0 | 25.0 | -4.6 | 11.4 | 0.2 |
| mid_01d0 | ESRL | 28.21N | 177.38W | 3.7masl | 525 | 5 | 15.0 | -10.7 | 10.9 | 1.0 |
| mkn_01d0 | ESRL | 0.05S | 37.3E | 3897.0masl | 146 | 0 | 25.0 | -14.3 | 14.8 | 0.7 |
| mlo_01d0 | ESRL | 19.54N | 155.58W | 3397.0masl | 565 | 0 | 15.0 | -2.4 | 10.9 | 0.5 |
| nmb_01d0 | ESRL | 23.58S | 15.03E | 456.0masl | 164 | 0 | 25.0 | -7.8 | 11.4 | 0.3 |
| nwr_01d0 | ESRL | 40.05N | 105.58W | 3523.0masl | 543 | 18 | 15.0 | -11.1 | 15.2 | 1.5 |
| oxk_01d0 | ESRL | 50.03N | 11.8E | 1022.0masl | 202 | 2 | 75.0 | -12.5 | 42.9 | 0.3 |
| pal_01d0 | ESRL | 67.97N | 24.12E | 560.0masl | 377 | 54 | 15.0 | 16.7 | 35.1 | 0.2 |
| poc000_01d1 | ESRL | 0.0N | 155.0W | 10.0masl | 173 | 33 | 7.5 | -13.9 | 9.5 | 4.7 |
| pocn05_01D1 | ESRL | 5.0N | 151.0W | 10.0masl | 174 | 29 | 7.5 | -15.1 | 9.5 | 5.3 |
| pocn10_01D1 | ESRL | 10.0N | 149.0W | 10.0masl | 174 | 45 | 7.5 | -16.0 | 14.0 | 7.6 |
| pocn15_01D1 | ESRL | 15.0N | 145.0W | 10.0masl | 168 | 26 | 7.5 | -11.0 | 11.1 | 4.1 |
| pocn20_01D1 | ESRL | 20.0N | 141.0W | 10.0masl | 166 | 13 | 7.5 | -6.8 | 11.5 | 2.9 |
| pocn25_01D1 | ESRL | 25.0N | 139.0W | 10.0masl | 155 | 14 | 7.5 | -7.0 | 11.2 | 2.6 |
| pocn30_01D1 | ESRL | 30.0N | 135.0W | 10.0masl | 153 | 18 | 7.5 | -4.7 | 13.9 | 2.7 |
| pocn35_01D1 | ESRL | 35.0N | 137.0W | 10.0masl | 5 | 0 | 7.5 | -4.0 | 8.6 | 1.4 |
| pocs05_01D1 | ESRL | 5.0S | 159.0W | 10.0masl | 159 | 31 | 7.5 | -15.3 | 8.6 | 5.2 |
| pocs10_01D1 | ESRL | 10.0S | 161.0W | 10.0masl | 170 | 41 | 7.5 | -14.6 | 10.1 | 5.4 |
| pocs15_01D1 | ESRL | 15.0S | 171.0W | 10.0masl | 163 | 15 | 7.5 | -10.4 | 9.5 | 3.4 |
| pocs20_01D1 | ESRL | 20.0S | 174.0W | 10.0masl | 169 | 8 | 7.5 | -7.3 | 7.9 | 2.0 |
| pocs25_01D1 | ESRL | 25.0S | 171.0W | 10.0masl | 164 | 0 | 7.5 | -5.3 | 6.3 | 1.1 |
| pocs30_01D1 | ESRL | 30.0S | 176.0W | 10.0masl | 166 | 0 | 7.5 | -5.0 | 5.0 | 0.8 |
| pocs35_01D1 | ESRL | 35.0S | 180.0E | 10.0masl | 14 | 1 | 7.5 | -0.5 | 8.2 | 0.5 |
| psa_01d0 | ESRL | 64.92S | 64.0W | 10.0masl | 542 | 0 | 7.5 | -2.7 | 3.7 | 0.3 |
| pta_01d0 | ESRL | 38.95N | 123.74W | 17.0masl | 427 | 1 | 25.0 | -4.6 | 16.9 | 0.4 |
| rpb_01d0 | ESRL | 13.17N | 59.43W | 45.0masl | 519 | 2 | 15.0 | -10.7 | 10.0 | 0.9 |
| sct_01p0 | ESRL | 33.41N | 81.83W | 115.2masl | 351 | 0 | 75.0 | -23.5 | 33.7 | 0.3 |
| sey_01d0 | ESRL | 4.67S | 55.17E | 3.0masl | 514 | 43 | 7.5 | -6.5 | 12.3 | 3.1 |
| sgp_01d0 | ESRL | 36.8N | 97.5W | 314.0masl | 443 | 10 | 75.0 | -56.1 | 57.4 | 0.8 |
| shm_01d0 | ESRL | 52.72N | 174.1E | 40.0masl | 482 | 0 | 25.0 | -8.7 | 11.4 | 0.3 |
| smo_01d0 | ESRL | 14.25S | 170.56W | 42.0masl | 568 | 70 | 7.5 | -10.5 | 9.9 | 3.6 |
| spo_01d0 | ESRL | 89.98S | 24.8W | 2810.0masl | 566 | 0 | 7.5 | -4.1 | 4.7 | 0.7 |
| stm_01d0 | ESRL | 66.0N | 2.0E | 0.0masl | 917 | 9 | 15.0 | -1.4 | 13.5 | 0.5 |
| sum_01d0 | ESRL | 72.58N | 38.48W | 3238.0masl | 468 | 0 | 15.0 | -4.7 | 8.4 | 0.4 |
| syo_01d0 | ESRL | 69.0S | 39.58E | 11.0masl | 260 | 0 | 7.5 | -2.6 | 3.6 | 0.3 |
| tap_01d0 | ESRL | 36.73N | 126.13E | 20.0masl | 441 | 3 | 75.0 | 10.2 | 61.7 | 0.5 |
| tdf_01d0 | ESRL | 54.87S | 68.48W | 20.0masl | 206 | 0 | 7.5 | -4.2 | 4.1 | 0.6 |
| thd_01d0 | ESRL | 41.05N | 124.15W | 107.0masl | 400 | 0 | 25.0 | -7.0 | 14.6 | 0.4 |
| uta_01d0 | ESRL | 39.9N | 113.72W | 1320.0masl | 525 | 12 | 25.0 | -5.5 | 28.7 | 0.4 |
| uum_01d0 | ESRL | 44.45N | 111.1E | 914.0masl | 533 | 1 | 25.0 | -1.2 | 22.7 | 0.3 |
| wbi_01p0 | ESRL | 41.72N | 91.35W | 241.7masl | 296 | 12 | 30.0 | -8.3 | 38.0 | 1.4 |
| wgc_01p0 | ESRL | 38.27N | 121.49W | 0.0masl | 339 | 53 | 75.0 | -118.5 | 158.8 | 6.9 |
| wis_01d0 | ESRL | 31.13N | 34.88E | 400.0masl | 552 | 3 | 25.0 | -6.2 | 23.7 | 0.8 |
| wkt_01d0 | ESRL | 31.31N | 97.33W | 251.0masl | 409 | 55 | 30.0 | -48.6 | 43.7 | 3.8 |
| wkt_01p0 | ESRL | 31.31N | 97.33W | 251.0masl | 298 | 38 | 30.0 | -46.7 | 58.7 | 5.8 |
| wlg_01d0 | ESRL | 36.29N | 100.9E | 3810.0masl | 462 | 17 | 15.0 | -1.8 | 20.6 | 0.8 |
| wsa_06c0 | EC | 49.93N | 60.02W | 5.0masl | 2314 | 52 | 25.0 | 3.8 | 25.5 | 0.9 |
| zep_01d0 | ESRL | 78.9N | 11.88E | 475.0masl | 588 | 11 | 15.0 | 2.2 | 14.2 | 0.5 |
Further Reading