Employees at NOAA's Global Monitoring Laboratory strive to create a workplace where everyone feels welcomed and empowered to reach their full potential while supporting NOAA's mission. We embrace diverse perspectives from each other and celebrate everyone's unique experiences and expertise.
What We Do
The Global Monitoring Laboratory (GML) has active members of the community who promote changes towards Diversity, Equity, Inclusion, and Accessibility (DEIA), support leadership in expanding and strengthening the diversity of its workforce, foster a more inclusive environment, and attract, retain, and support the professional advancement of historically excluded minorities and other groups in the Global Monitoring Laboratory.
DEIA Events
GML organizes regular events to raise awareness, engage employees, and reflect on potential actions towards diversity, equity, inclusion, and accessibility. These include, but are not limited to:
Regular discussions to solicit ideas and opinions from current employees and to reflect on how Global Monitoring Laboratory can create a more inclusive environment for a diverse workforce.
The virtual screening of "Can we talk? Difficult Conversations with Underrepresented People of Color: Sense of Belonging and Obstacles to STEM Fields", a documentary film that captures the unique socio-emotional experiences of students, scientists, faculty, administrators, and medical professionals from historically excluded communities of color who are pursuing, in, and/or have left STEM fields. See the trailer here.
A 60-day Equity Engagement series that explores the topics of white privilege, systemic racism, action, and allyship. Check out the reading list here.
For more details, contact Gary Morris (gary.morris@noaa.gov) or Matt Gentry (matthew.gentry@noaa.gov))).
More training opportunities can be found at the Commerce Learning Center.
Early Career Events
We organize events to help create inclusion for early-career scientists and provide guidance for their career development. These include:
Early Career coffee hours.
Early Career Panels.
Browse and apply for scholarships, internships, fellowships, and post-doctoral experiences at NOAA.
Community-building Events
We organize events to create inclusiveness at GML, including:
DEIA Reading List
GML offers a DEIA reading list for all employees..
Commitments
People at NOAA's Global Monitoring Laboratory work to acquire, evaluate, and make available accurate, long-term atmospheric records that inform decisions on climate change, weather variability, carbon cycle feedbacks, and ozone depletion. To address these complex issues, we need to be conscious and have an understanding of inequity, injustice, and racism to better address the societal harm caused by these environmental changes.
At the Global Monitoring Laboratory, 63% of our employees are contractors and 37% are Federal employees. By 2020, about 90% of the Federal employees were white; 67% of Federal employees were male and 34% were female. Most of our contractors are affiliated with the Cooperative Institute for Research in Environmental Sciences (CIRES). Based on the 2018 survey of the institute, 45% of CIRES employees were female, 11% of CIRES employees were historically marginalized groups and 6% were international. Acknowledging that our current demographics do not match that of the United States, GML seeks to attract, engage, and retain talent from all backgrounds and life stages.
We work towards inclusivity for all, with recognition for the varied and intersecting ways in which race, ethnicity, gender, sexual orientation, socio-economic status, age, physical ability, neurodiversity, body type, veteran status, religion, creed, discipline, education level, cultural background, marital or parental status shape individuals.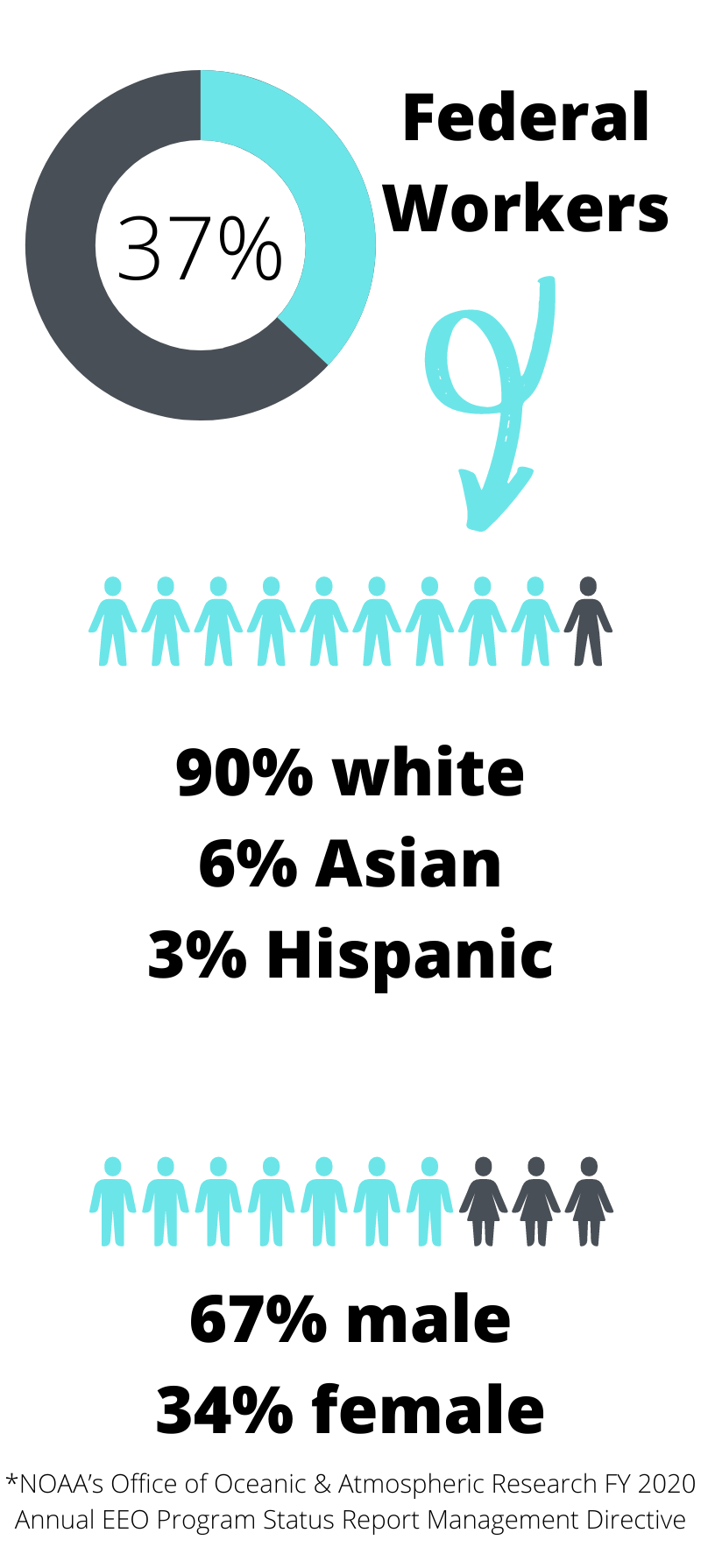 Employee Spotlights
Explore NOAA Career Opportunities
Monitoring is our Mission; People are our Passion
"The Global Monitoring Laboratory is committed to creating an inviting, inclusive environment for all staff, colleagues, and partners as we work to fulfill our science mission. We seek respectful engagement and improved understanding of our colleagues' experiences and needs. We value the perspectives of all staff who represent different cultures, backgrounds, lifestyles, personalities, and family situations. We cultivate strong, diverse leaders and believe that diversity drives innovation. We work to grow together to establish the most welcoming and accepting atmosphere where a true balance of life and work exist. Join us for daily tea time, early-career coffees, or our equity engagement series as we strive for improved awareness in the spirit of learning, accepting, and respecting those around us, and attempt to develop positive and constructive interactions and growth. Together, we commit to making a difference in our local and global communities."
Dr. James Butler
Former Director of NOAA's Global Monitoring Laboratory
Actions toward Future
We believe that diversity boosts the creativity and breadth of experience, ability, and vision in any organization, and is fundamental in a scientific and collegial organization like GML. We acknowledge that what we have now is not enough and aim to do more looking into the future.
We are currently in the process of drafting a 2021-2025 DEIA strategic plan for the NOAA Earth System Research Laboratories and will release the final product soon.
Some of our future actions include, but are not limited to:
Establish a tracking and reporting process of DEIA.
Track the demographics of our employees every 6 months.
Create diverse hiring panels with every member completing implicit bias training before serving.
Ensure diverse representation of speakers in our seminar series and other training activities.
Ensure diverse representation in the DEIA committee.
Promote equity pay and benefits among our post-docs, contractors, and federal employees.
Build a framework to advance equity for promotions and advancement opportunities.
Improve communication across GML.
Develop an onboarding program that ensures resources are accessible to new employees.
Improve career development, support, and mentoring resources.
Provide outreach and educational opportunities in-person and virtually to underserved communities.
Learn and acknowledge the institutional history of NOAA and GML and continue to seek improvements on DEIA issues.
NOAA & NOAA Research Resources
If you'd like to learn more about NOAA and NOAA Research efforts to increase and improve knowledge and understanding of diversity, equity, and inclusion issues, please follow these links for additional information:
2020-2026 NOAA Research Strategy
NOAA Research Diversity, Equity Inclusion & Accessibility
NOAA Research Diversity, Equity Inclusion & Accessibility Strategic Plan: for 2022-2025
NOAA Policy Statement on Diversity and Inclusion
NOAA Office of Inclusion and Civil Rights
Administrative Orders on EEO/Civil Rights Program
Office of Inclusion and Civil Rights Policies and Programs
How to File a Complaint
Disability Discrimination
U.S. Equal Employment Opportunity Commission

NOAA Employee Resource Groups
Employee Resource & Affinity Group List
Meet the NOAA Employee Resource Groups & Affinity Groups
More Resources
Mindful NOAA - a community of practice committed to incorporating science-based mindfulness in support of NOAA's mission of science, service, and stewardship.
NOAA Coaching Network - federal employees can request a coach to help support their needs related to any aspect of work and life.
NOAA Mentoring Program - a program that helps employees enhance their careers by finding their niche in the organization, building strategic relationships, and gaining a broader perspective of NOAA's mission and future.
CIRES Mentoring Program - a program that aims to foster professional growth and career development for mentees and mentors through an exchange of professional knowledge, skills, insights, and experience.
OverDrive - Ebooks & audiobooks in the areas of leadership, management, diversity, inclusion, and life skills.